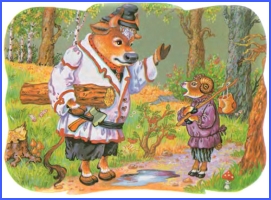 There was once an Ox who feared no one, for he was stronger than anyone he ever came across however much they might boast of their strength. His master pastured him in green fields and meadows in summer, but he refused to stay with him and ran away.
Autumn came, it grew colder, and the grass withered and turned dry.
At night, the Ox shivered from the cold and he dreaded to so much as think of winter. Hearing that with its coming the birds fly to warmer parts, he decided to do as they did. He got ready and set out on his way.
It was morning when he left the valley where he had grazed all summer long, and, oh, how sorry he was to be leaving it! It was such a beautiful valley, and it had provided him with such good food! But there was nothing to be done, and the Ox walked on.
He had only just come out onto a wide road when he met a Ram coming toward him.
"Where are you going?" asked the Ram.
"To warmer parts to pass the winter in."
"I'm coming with you!"
The Ram joined the Ox, and the two of them went on together.
They walked and they walked and they met a Cock.
"Cock-a-doodle-doo! Where are you going?" asked the Cock.
"To warmer parts to pass the winter in."
"I'm coming with you!"
So now there were three of them, and they went on together. Evening came, they were tired and sat down for a rest when all of a sudden they heard a loud honking overhead.
"Geese! Geese!" the Cock cried. He wanted to fly after them, but could fly neither so high nor so far. He flapped his wings, crowed and came down again.
"A plague upon it all! To get tired out and all for nothing!" he grumbled.
In the meantime the Geese had dropped down on a hilltop where they meant to spend the night, and the leader of the flock, an old Gander, came up to the Ox and his two friends and greeted them with a bow.
"May I ask where you gentlemen are going?" he asked.
"To warmer parts to spend the winter there," the Ox replied.
"Ha-ha-ha!" laughed the Gander. "You"ll never get there."
"Why do you say that, friend?" the Cock asked.
"Because the good Lord made you for other things. With legs like yours, Ox and Ram, and wings like yours, Cock, it would take you a lifetime or more to get so far."
And with that the Gander walked away.
The three travellers began to think what to do, they thought for a long time, but could think of nothing. So they went to see the old Gander and ask his advice.
"You had better go back to where you came from," said the Gander. "Find your masters and get them to take you back. And ask their pardon if you don't want to be driven out."
The three friends thought this over.
"We did not leave our masters only to be made to wear a yoke again!" said they.
And away they went. They built themselves a hut and they lived there together for many a year with not a care in the world.